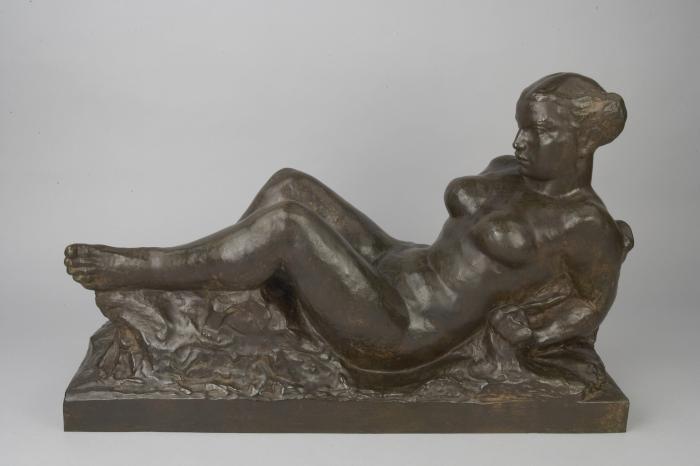 Charles Malfray
Big Source of the Taurion 1938-1939
Bronze proof, n°1/8
Sand cast inscribed Marius Hohwiller
Signed: CH. MALFRAY
H. 54; W. 88; D. 30 cm (maquette to the fourth of the final scale)

Bibliography
Jacques Laprade, Malfray, Paris, Fernand Mourlot, 1944, p. 10, 28-30, repr.
L. Gischia et N. Védrès, La sculpture en France depuis Rodin, Paris, Seuil, 1945, p. 65, pl. 21, repr.
A.-H. Martinie, La sculpture en France au XXe siècle, Paris, Editions Braun et Cie, 1949, n°10, repr.
Jean Cassou, Bernard Dorival et Geneviève Homolle, Catalogue guide du Musée National d'Art Moderne de Paris, Paris, Editions des Musées Nationaux, 1954, p. 201-202, repr.
Charles Kunstler, La sculpture contemporaine de 1900 à 1960, Paris, Editions de l'Illustration, 1961, p. X, repr.
Françoise Galle, Catalogue raisonné des sculptures de Charles Malfray, mémoire de DESS, université Paris I, direction de Robert Julien, 1971, n°142-143-144, repr.
Exhibitions
Salon des Tuileries, Paris, juin 1939.
Salon d'Automne, Paris, 1941, n°2410.
Charles Malfray 1887-1940, Paris, galerie Parvillée, avril-mai 1944, n°6.
Charles Malfray, Paris, Musée du Petit Palais, juin 1947, n°52, 53, 54.
Charles Malfray 1887-1940, Paris, galerie Edmond Guérin, 16 février-31mars 1948, n°5.
Formes Humaines, deuxième biennale de sculpture contemporaine, Paris, musée Rodin, 29 avril-30 mai 1966, n°11.
Hommage à Humblot et Malfray, Romorantin-Lanthenay, bibliothèque municipale, 17 mai-1er juin 1980, n°28.
Le Front populaire et l'art moderne, Orléans, musée des Beaux-Arts, 11 mars-31 mai 1995, p. 163.
Charles Malfray 1887-1940 sculpteur, Paris, galerie Malaquais, 5 avril-30 juin 2007.
Public Collections
Orléans, Fine Arts Museum
Paris, FNAC
In 1938, Bastard, the director of the Sèvres manufacture, recommended Charles Malfray and Paul Cornet to Georges Huisman, who was the Fine Arts General Director and who trusted them with an official commission for the city of Limoges. Malfray was assigned the Source of the Taurion, a small river that flows in Limousin, and Cornet was in charge of the Vienne. Both works were designed to adorn the basins of the Vergniaud fountain, located in the Champ de Mars gardens, near the city station. Eventually (perhaps in the eighties), Cornet's and Malfray's statues were shifted to the place where they now stand: on lush green ground in the Champ de Juillet garden.
Malfray's model for the Source of the Taurion was probably his own wife, Jeanne. The artist first drew numerous preliminary sketches. One of them, a life size red chalk drawing, decorated the door of his studio in the rue François Guibert[1]. Malfray then made a plaster model to the third of the final intended size, which is now stored in the collections of the Paris Museum of Modern art, followed by a monumental plaster, stored in the Orléans Fine Arts museum. The carving of the 3.4 meters long stone took place in his studio rue de la Procession[2], where Jean Carton and Raymond Corbin recall having seen it worked out. The stone was taken away to Limoges on the 14 January, 1939[3].
When the monumental plaster was displayed at the 1939 Tuileries Salon, the press spoke very highly of it. Louis Vauxcelles praised it as a "passionate and vigorous", "gushing and romantic" work[4]. A few years later, Jacques de Laprade[5] evoked the statue as a major achievement, both in Malfray's career and in contemporary art. Likewise, Waldemar George[6] wrote that "With the Source of the Taurion and the Lying Nude Figures, Malfray reaches the utmost of his art. Beholding the Spring, one may recall the figures of Goujon, Coysevox and Aristide Maillol. Malfray goes as far in his restless exploration of the fullness of form as those who preceded him did."
---