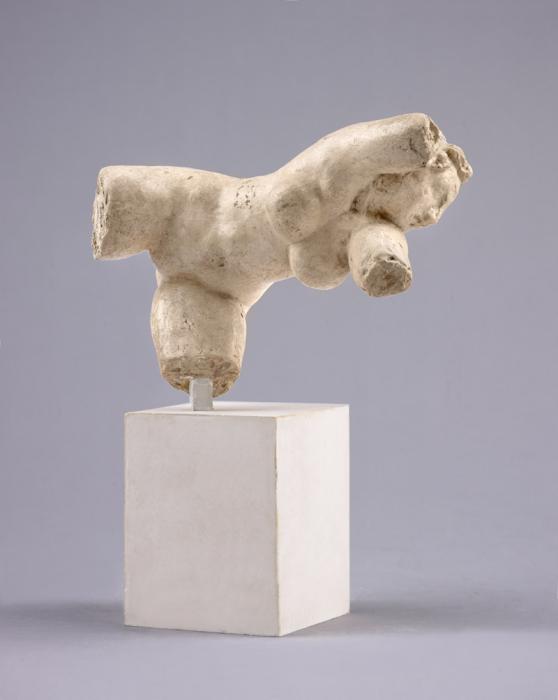 Charles Malfray
Torso of a bather 1936
Plaster
H. 12 ; W. 17.5 ; D. 7 cm

Bibliography
Jacques de Laprade, Malfray, Paris, Fernand Mourlot, 1944, p. 10, 27-28, 45, pl. VII.
A.-H. Martinie, La sculpture en France au XXe siècle, Paris, édition Braun et Cie, 1949, n°20, repr.
Jean Cassou, Bernard Dorival, Geneviève Homolle, Catalogue guide du MNAM, Paris, Editions des Musées Nationaux, 1954, p. 201-202.
René Jullian, Le musée de Lyon, sculptures, objets d'art, Edition H.Laurens, 1954, p. 10.
Françoise Galle, Catalogue raisonné des sculptures de Charles Malfray, mémoire de DESS, université de Paris I, direction de Robert Julien, 1971, n°149-150.
Jean-Loup Champion (sous la direction de), 1000 sculptures des Musées de France, Paris, édition Gallimard, 1998, n°826.
Exhibitions
Salon d'Automne, Paris, octobre-novembre 1936, n°1005.
Fransk Konst I Svensk âgo, Stockholm, Svensk Frenska Konst Galleriet, novembre-décembre 1938.
Autour de Rodin, Cent ans de sculpture française, Amsterdam, Stedeljik Museum, juillet-septembre 1939, p. 77, n°218.
Salon d'Automne, Paris, 1941, n°2406.
Charles Malfray 1887-1940, Paris, galerie Parvillée, avril-mai 1944, n°1 et 7.
Charles Malfray, Paris, Musée du Petit Palais, juin 1947, n°37-38, repr.
Charles Malfray 1887-1940, Paris, galerie Edmond Guérin, 16 février-31mars 1948, n°2 et 40.
Rodin et la révolution de la sculpture : de Camille Claudel à Giacometti, Barcelone, Fondation Caixa, 20 octobre 2004-27 février 2005, repr.
Charles Malfray 1887-1940 sculpteur, Paris, galerie Malaquais, 5 avril-30 juin 2007.
Public Collections
Lyon, Fine Arts Museum
Paris, National Museum of Modern Art
Malfray started working on the theme of Bathers in 1933. As he had done with Silence (1916-1918), he first devised the Torso of a Bather in small scale: about ten centimeters high. He then enlarged it to fifty and eventually ninety centimeters.